Changing your plan

If you are an administrator on your Gliffy account, you can purchase, upgrade, or downgrade your plan and change the number of users in your account.

If you upgrade to a multi-user plan, after you purchase your plan, then proceed to adding each user (see Managing users).

1. From the top-right corner, click the profile icon

> Account Settings.
2. Click Upgrade.
3. Choose your plan by clicking Buy now for a Professional account or requesting a quote for an Enterprise account.
Note:  If you are downgrading your plan to one that has fewer users, you must first remove the extra users (see Managing users).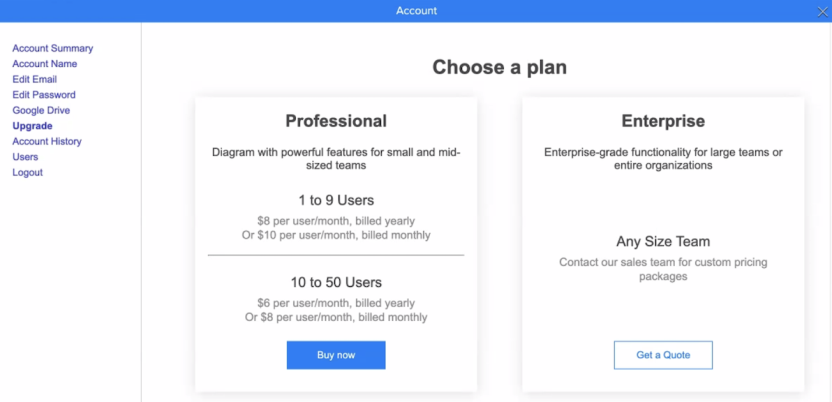 The payment window opens.
4. Confirm the number of users (if you chose a Team account), whether you want to be billed annually or monthly, and enter your payment information.
5. Click Complete purchase. Your payment is applied as follows:
| Action | Description |
| --- | --- |
| You created an account | Your account immediately changes to your new plan/user count and you are billed immediately. |
| You upgraded your account | Your account immediately changes to your new plan/user count. On your next billing date (shown in the Account Summary tab), you will be charged the due payment for the next billing cycle plus the difference between your old plan and your new plan for the previous billing cycle. |
| You downgraded your plan | Your account immediately changes to your new plan/user count. The remainder of your previous plan is applied to your account as a credit. On your next billing date (shown in the Account Summary tab), that credit will be applied to the due payment for your next billing cycle. |